Supplies You Will Need
By Rodney Everson
• Updated Jul 27th, 2023
Teach your student the phonics advanced code in as little as 8 weeks with our 170-page workbook and instruction manual.
When Romalda Spalding's book, The Writing Road to Reading, was first published in 1957 she no doubt intended it to be an inexpensive guide to teaching reading that could be followed by parents and teachers alike. Since then, adaptations have appeared that cost considerably more, but her basic method still remains available to all via more recent editions of her book.
The Fifth Edition - 2003
The most recent edition is the Fifth Edition, written by a committee after Ms. Spalding's death. This edition contains most of the content of the previous Fourth Edition, but is two to three times as lengthy due to the inclusion of additional teaching instructions, an index of the Ayres List words, a Scope and Sequence for teachers, etc.

If you're a teacher, you will probably prefer the Fifth Edition due to all of this added information. It's also the least expensive way to go if you need to purchase a new volume.
The Fourth Edition - 1990
This edition is essentially the same as the 1957 original, but with a new preface, etc. Unfortunately, continuing demand and dwindling supplies have made it difficult to find a new book at a reasonable price. Yet, the 1990 version is far easier to read and absorb the essence of Ms. Spalding's method, especially for a homeschooling parent, in my opinion. My suggestion would be to purchase a far cheaper used book, since you're probably going to make extensive notes in it anyway. Amazon doesn't carry it, but has several sellers of used copies.
Dry Erase Whiteboards
A small dry erase whiteboard comes in handy for writing the Ayres List words that you are teaching, as you dictate them, and for letting your child practice forming letters. This one is two-sided and has one side conveniently lined for demonstrating Ms. Spalding's method of letter formation.
You'll need dry erase markers. See the box of 12 Expo Low Odor Bullet Tip Markers. Bullet tip will be better for writing accurately formed letters than the chisel tipped ones, and you'll want low odor ones.
Also, you'll need an inexpensive eraser for the board. Here's one by Expo. Watch shipping charges.
Composition Notebooks
For beginning readers, you'll want a wide-lined sewn composition notebook. Here's one by Top Flight that comes in several cover colors, which could be nice if you're working with more than one child at home.
For children who are already writing in cursive, here's a college-ruled sewn composition notebook by Top Flight.
The 84 Revised Phonogram Cards
You will need the 84 Phonogram Cards that incorporate the changes that have been discussed. Previously available as a paid PDF download of 14 front pages and 14 back pages with six cards per page, you can now download the PDF for free below. Once downloaded, you can print them on card stock and cut them apart on the cut lines.
Download the OnTrack Reading Phonogram Flashcards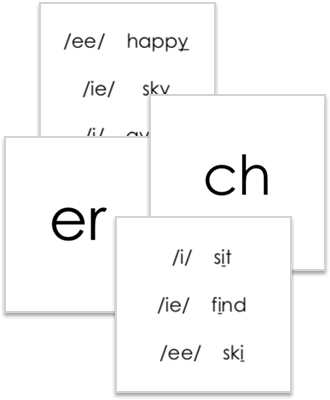 PDF of Recoded Ayres List
This list will be useful for checking your own coding process until you have it down pat:

On the next page, Children's Literature, I list some of the books recommended for early use in The Writing Road to Reading so that you can get started more easily and without having to first encounter some of the obstacles that I encountered when going through the list of recommended literature in the book.